Hello everyone! i thought i'd write a guide on how my group did Splitting Heirs last night for everyone because i had a few people ask me. I'll include screen shots of the runs i did so you can get some kind of a visual of how it plays out also. The group i went with started with me just knowing yugl so i dont know any of these people bar crystina who replaced Yugl.

Splitting Heirs-
Splitting Heirs is a bcnm avaaliable to those of the San'doria nation in the past when they control all seven area's via doing campaign battle, once sandy controls these area's the player can use the Campaign OP's to take part in the mission Splitting Heirs which takes place in La'Vaule[S] in the past. The requirements other than this are that each memeber is of the Sandy nation, and has a Iron Emblem of service.
Setup : BLM/NIN BLM/NIN BLM/NIN BLM/NIN BLM/RDM RDM/BLM
Once all members have the OP you can head to La'Vaule by using the campaign warps to Jugner Forest[S] and running. In La'Vaule[S] Itself you need to run to the BC area (or we did anyway)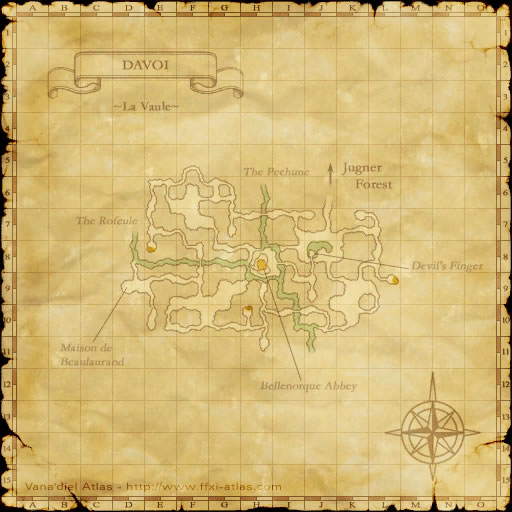 Which is at F-8 on the map just South of the bridge.
All members require a key item to enter which drops off the orcs randomly, we had a preatty good ratio at this and got the key item within the first few mobs, any of the Orc's can drop it and the item is called a Tigris Stone, when it drops everyone in the party should make sure they got it to, we had a case when one member did not get one but the other 5 did.
Once you have the stone its time to enter the battlefield! Once you enter blm's need to buff with items such as re raise and make sure you put shadows up!
Once thats done make sure that the RDM's Refresh cycle is ready and stand within casting range of the NM.
The key here is to do a elemental Seal Time nuke Aga III and not just hit the NM but also it's links so that the rdm can focus on healing and assisting the BLM's before he re calls them out. To do this, on the time nuke the RDM will hit elemental seal ready to do Gravity right after and then run in the the boss to pop the mobs to be hit by the Aga III, this worked extremelly well. Thunder nukes work best so a volly of Thunder III, IV Burst II (only use burst II if you have max potency merits or the mp to damage ratio is wasted).
After the initial aga III blm's need to RUN right away back up the hill and re cast shadows as that aga easily feeds him above the TP mark and he tends to do his silly dance (thou sometimes he does counterstance). KEEP SHADOWS UP! or he will one shot you. ( or very close to it )
From here, blm's kite back to the zone line using a volly of Tier IV, III nukes (thunder based) till he dies. Re pops will happen about mid fight, the rdm needs to keep these asleep.
Fairly easy from there as long as BLM's keep shadows up, you dont die, just volly your nukes down and good luck with drops.
~Daemonic.